Birds and footie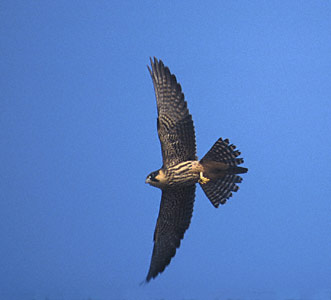 I saw somewhere that the tabletop football game
Subbuteo
took it's name from the scientific name for a bird of prey (more on which in a moment).
Every boy had this game when I was a young fella. I expect it has gone the way of the dodo now though as a popular game for kids.
For a start it is completely unrealistic. And your parents always trod on the "players" and broke them. But crucially for youngsters nowadays, there is a real showstopper: playing the game involves some actual physical movement.
Anyway, the bird in question is the
hobby
,
Falco Subbuteo
(Geddit? Subbuteo = hobby).
Lots of birds of prey are on the increase in the UK. Which is good. And some species that were considered very rare and threatened thirty years ago are now see-able again in this country.
I'd never seen a hobby before. I've seen buzzards, sparrowhawks, marsh harriers, kestrels, red kites, a merlin, and even a peregrine, but never a hobby.
This all changed when I looked out of the kitchen window on Wednesday and saw one flying westward over the estate. Unmistakeable: like a very large swift.