Sarah Jane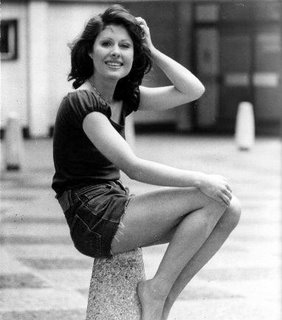 Forget the cybermen, forget CGI, forget everything. I think it's safe to say that the episode of Doctor Who I'm most looking forward to is the one on this Saturday, featuring 58-year-old Elisabeth Sladen as Sarah Jane Smith.
Yes, I am a man of a Certain Age all right. She caught me at just the right time, she was The Assistant when I was between the ages of 10 and 13, and she will forever be imprinted on my psyche as the embodiment of sexual desire. Or something.
I have of course carefully avoided watching her in old Doctor Whos, lest my fragile hold on reality be broken once and for all. This coming May bank hol it is Collector's Fair time again in Central Milton Keynes (Anthony Stewart Head will be there, along with the likes of Jonathan Frakes and Kate Mulgrew). It's not my kind of thing at all, but we were shopping there this time last year (Didi still talks about the Daleks), and Ms Sladen was in attendance.
That's the one and only time I've ever been really excited by a celebrity sighting, and that includes the obviously short-sighted Sally Phillips saying hello to Roy in Starbucks. And, you have to say, for a 58-year old: not at all bad.